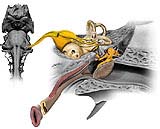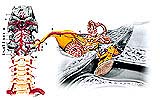 other pictures :
• Vasculature of the Internal Ear
• Utricle, Ampullary Crest and Membranous labyrinth
• Ossicles and Footplate of the Stapes
The course of the vestibulocochlear nerve can be followed from its real (nucleic) and apparent (intracisternal) origins to the inner ear, along with its vasculature, complete from the vertebral artery to the arteries in the inner ear
A practical guide for otolaryngologists
by A. Leblanc. 64 pages, 145 illustrations - 1998 ISBN 2.287.59.648.8
Springer Verlag
P.O. box 14 02 01
14302 Berlin
Germany

tel. 00 49 30 827 87 0
Fax 00 49 30 827 87 301

e-mail : orders@springer.de

Book Review
US$49.00
ISBN 2.287.59.648.8

68 pages - 145 illustrations

Available in French and English, soon to be published in German, Spanish and Italian.
…
In order to show the position the organs of hearing and balance as accurately as possible, the author fenestrated the bony walls of the cochlea, vestibule and semi-circular canals so that the different parts of Corti's spiral organ, the utricle and ampullar crests can be seen. Sections of the vestibule reveal the various internal orifices through which elements of the membranous labyrinth, such as the semi-circular ducts, are conveyed. Both the endolymphatic system and the perilymphatic spaces are depicted.
Illustrations are correlated to anatomical sections, CT and MRI views.
Designed to be original and educational, this atlas will reduce the long hours of tedious study and make the anatomy of the ear easier to master. Its publication is all the more timely, in that these organs are now beginning to be visualized by modern imaging techniques.
A precious guide for otolaryngologists, neurologists, anatomists, neurosurgeons, radiologists, general practitionners, and medical students.